Virtual Catalog of Roman Coins

An Online Encyclopedia of Roman Emperors

Nepotian (350 A.D.)

Michael DiMaio, Jr.

Salve Regina University

---
Julius Nepotian, the son of Eutropia, the half-sister of Constantine the Great, declared himself emperor at Rome on 3 June 350. With a band of gladiators he attacked Rome but was killed by Magnentius' generals on 30 June 350, twenty-eight days after the beginning of the revolt. His head was put on a spear and carried around Rome.
Bibliography
Barnes, T.D, Athanasius and Constantius: Theology and Politics in the Constantinian Empire, Cambridge, 1993.
Jones, A.H.M. J.R. Martindale, and J. Morris. "Iul. Nepotianus 5" the Prosopography of the Later Roman Empire, Cambridge, 1971, 1.624.
---
Copyright (C) 1996, Michael DiMaio, Jr. This file may be copied on the condition that the entire contents, including the header and this copyright notice, remain intact.
---
Comments to: Michael DiMaio, Jr.
Updated: 6 August 1996
For more detailed geographical information, please use the DIR/ORBAntique and Medieval Atlas below. Click on the appropriate part of the map below to access large area maps.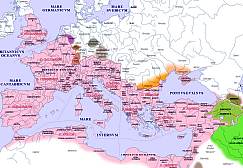 Return to the Imperial Index