An Online Encyclopedia of Roman Emperors

Helena (Wife of Julian the Transgressor)

Michael DiMaio, Jr.
Salve Regina University

---

Helen was the daughter of Constantine and Fausta. When Constantius II made his cousin Julian his Caesar on 6 November 355 , he married him to his sister Helen and dispatched the couple to Gaul. While in Gaul, Helen died during the Quinquennial Games; her remains were buried at a villa on the Via Nomentana in Rome next to her sister. Possibly she died in childbirth because she had several miscarriages which Eusebia, the wife of Constantius II, was suspected of having induced in order that Julian might not have an heir to the throne. She was alive when Julian was proclaimed emperor in 360. Possibly she died in November of that year.

Bibliography

DiMaio, Michael. Zonaras' Account of the Neo-Flavian Emperors, (Ph.D. diss., University of Missouri-Columbia, 1977).

Jones, A.H.M., J.R. Martindale, and J. Morris. "Helena 2," the Prosopography of the Later Roman Empire, Cambridge, 1971, 1.409ff.
---
Copyright (C) 1996, Michael DiMaio, Jr.. This file may be copied on the condition that the entire contents, including the header and this copyright notice, remain intact.
---
Comments to: Michael DiMaio, Jr.
Updated: 11 September 1996
For more detailed geographical information, please use the DIR/ORBAntique and Medieval Atlas below. Click on the appropriate part of the map below to access large area maps.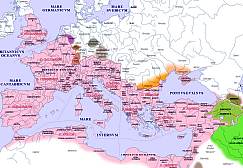 Return to the Imperial Index